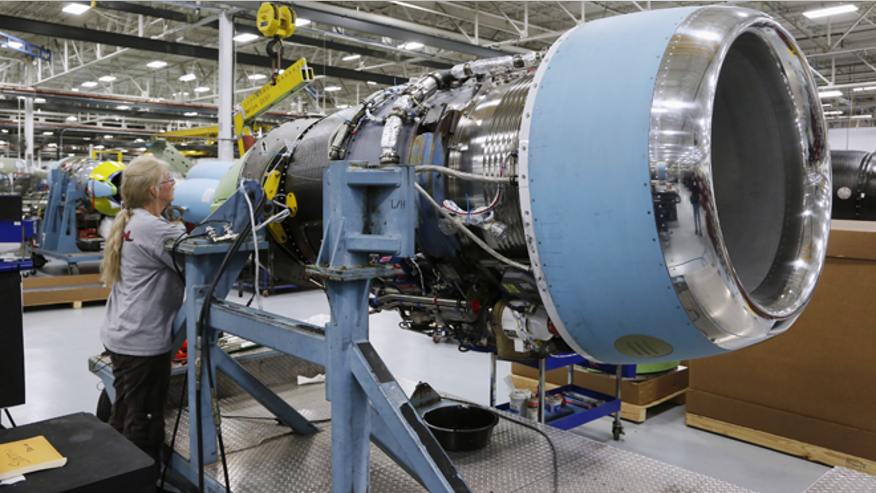 Inexpensive natural gas may be giving the U.S. a powerful and unique cost advantage that is incentivizing hundreds of companies to manufacture in the United States.
According to research conducted by Boston Consulting Group that was released Thursday, cheap natural gas will have a critical impact on U.S. manufacturing over the next several years that will benefit a wide variety of industries, from feedstock to finished goods.
"We are seeing an impact," said BCG Senior Partner Hal Sirkin. "We can identify over 200 companies that are part of this manufacturing renaissance, moving jobs back to the United States."
Businesses, which Sirkin said includes auto powerhouse Ford, outdoor-gear marker Coleman, ATM maker NCR and hair-products manufacturer Farouk are all examples of how lower costs in natural gas can motivate businesses to bring jobs back to America.
"We have found that virtually every manufacturer in the U.S. is poised to benefit – directly or indirectly," the research stated. "Low U.S. electricity prices in natural-gas-fired plants, for example, are already encouraging investment in energy-intensive industries such as steel and glass."
Sirkin said because of cheap energy, steel can now be produced at an 8% lower cost than previously and that the U.S. glass industry is extremely competitive with foreign producers.
"In France and Germany, it's about 60% higher to manufacture raw glass than it is in the U.S.," said Sirkin.
The surge in natural gas is not without serious controversy. Fracking techniques, which extract natural gas from shale rock layers deep within the earth, have ignited a flood of criticism, especially from environmental groups that say the drilling has an extremely harmful impact on the environment and can lead to dangerous spills.
"Anytime you extract something from the ground, there will be environmental problems," Sirkin said. "But you also have to keep the economy going."
There is also a growing debate over whether U.S.-based natural-gas companies should be allowed to export their product and create global demand, though many U.S. manufacturers would rather it stay in the U.S. and continue to give its industry a much-needed boost.
Overall, this renaissance is really a combination of two things, explained Sirkin. The first is that rapidly rising wages and overall costs in China are going up, making manufacturing in the U.S. more competitive (which is discussed in The American Manufacturing Revival: Not a Manufactured Hope, a Fox Business article published in December).
The other reason for the rebirth, Sirkin said, is the benefit to manufacturers of cheap natural gas.
"We predicted the resurgence in American manufacturing would start by 2015," he said. "But over the last few years, it's evident that it's starting earlier than we expected."
Christina is on Twitter @ChristinaScotti