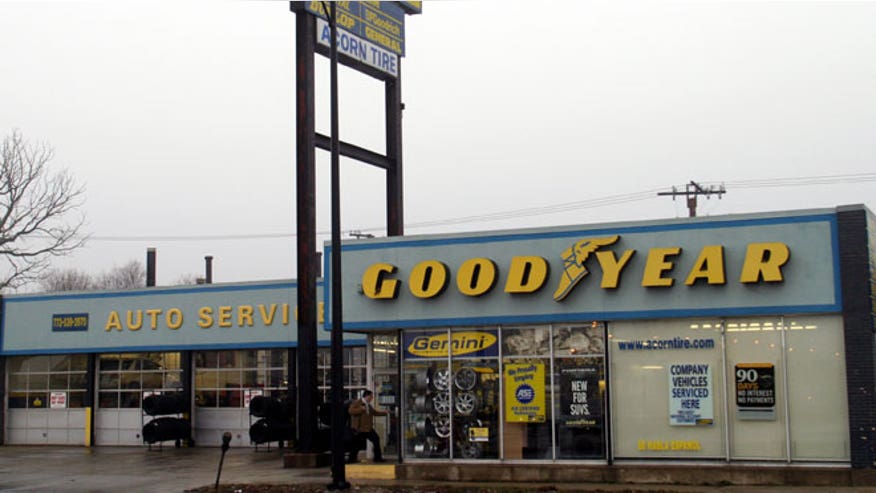 Goodyear Tire & Rubber (GT) raced more than 10% higher Thursday, as investors cheered the company's fourth-quarter earnings beat.
The tire maker also said it fully funded its pensions with $1.15 billion in cash, hoping to lift future cash flow.
Shares rallied 10.4% to $26.68 in recent trade, up about 38% over the last six months.
Goodyear reported net income of $228 million, or 84 cents a share, up from breakeven in the same period a year earlier. Excluding one-time items, adjusted earnings checked in at 74 cents a share, beating Wall Street's average estimate of 62 cents.
Revenue, however, slipped 5% to $4.79 billion and missed projections for $4.95 billion.
Akron, Ohio-based Goodyear's third consecutive year of profitability caps off a restructuring effort that cut costs and helped the tire company reboot.
Goodyear has recently benefited from growing demand in the U.S. In the latest period, the company sold 16.3 million tires in North America, up 3%. Operating profit in the region soared 72% to $199 million.
Goodyear's fourth-quarter operating profit in its Europe, Middle East and Africa unit rose to $101 million from $38 million a year ago. Operating income in Asia improved to $67 million from $57 million. Currency fluctuations weighed on the Latin America segment, which recorded a weaker profit of $52 million.
CEO Richard Kramer said the company's strong performance allowed it to fully fund its pensions.
"This is a major milestone in our history and will provide greater transparency to our underlying tire business while improving earnings and cash flow," Kramer added. "Moving past these legacy obligations is a new beginning for our company."
During the fourth quarter, Goodyear officially ended production at a plant in France that made headlines when workers took managers hostage last month. It plans to close the factory, which largely made tires for farm equipment, in the current period.
Goodyear also resolved a legal dispute the factory's union, agreeing to provide severance packages that exceed standards set by French law. The union had filed suit against Goodyear in Ohio.
The company will decide when to exit its international farm tire business later this year. That move will boost annual profits by about $75 million, with a $40 million benefit this year, according to Goodyear.
Goodyear backed its outlook through 2016, calling for 10% to 15% growth in annual segment operating income. It also expects to sell 2% to 3% more tires in fiscal 2014 compared to the prior year.