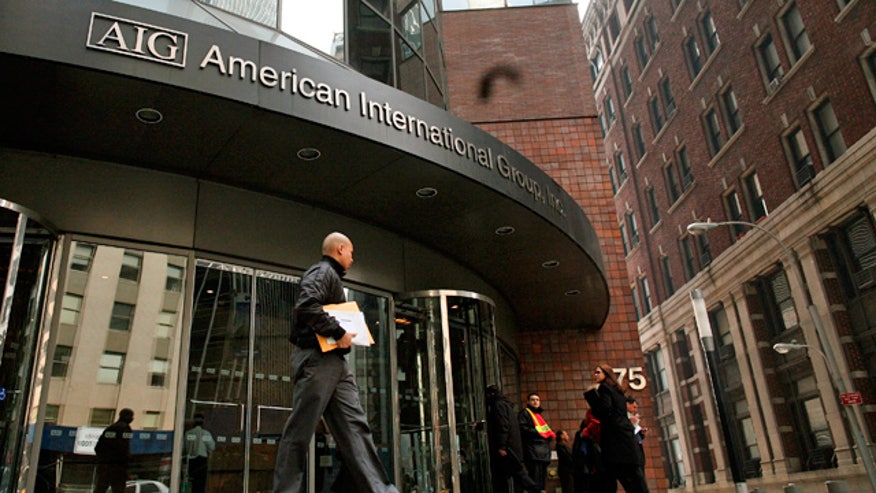 American International Group (AIG) swung to a fourth-quarter profit of $2 billion on Thursday, prompting the insurance giant to hike its dividend by 25% and boost share buybacks.
Shares of AIG advanced more than 1% on the upbeat developments.
AIG said it earned $2 billion, or $1.34 a share, last quarter, compared with a loss of $4 billion, or $2.68 a share, a year earlier. The 2012 period included a net loss of $4.4 billion tied to the sale of ILFC and pre-tax catastrophe losses of $2 billion related to Superstorm Sandy.
Excluding one-time items, AIG earned $1.15 a share, up from 20 cents a share, a year earlier. Analysts had been calling for EPS of 96 cents, although it's not clear if those numbers are comparable.
"AIG`s strong performance in both the fourth quarter and the full year of 2013 represents another successful milestone in our journey to further build on AIG`s core insurance operations," AIG CEO Robert Benmosche said in a statement.
AIG's property casualty division logged a fourth-quarter profit of $1.09 billion, compared with a loss of $944 million the year before. AIG cited improvement in underwriting results and an increase in net investment income that offset slightly higher severe losses. Pre-tax catastrophe losses tumbled to $208 million from $2 billion the year before.
Thanks to the strong results, the property casualty unit distributed $2.6 billion in cash dividends to the AIG parent company.
The company's life and retirement business generated a profit of $1.41 billion, up from $1.09 billion a year earlier.
At the same time, AIG unveiled a 25% dividend hike to 12.5 cents per share. The dividend is payable on March 25 to shareholders of record as of March 11.
The board also signed off on an additional $1 billion in stock buybacks.
"These actions reaffirm the board`s confidence in our strategy, and build upon the momentum generated by AIG`s strong fourth quarter and year-end operating results," Benmosche said.
Shares of New York-based AIG rallied 1.65% to $50.37 in extended trading on Thursday evening. The gains extend AIG's 12-month rally of about 28%.