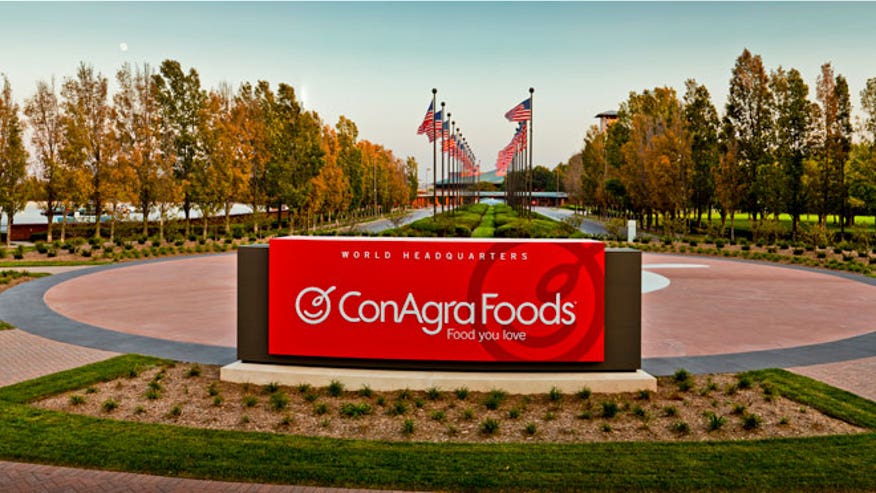 ConAgra Foods (CAG) slashed its full-year earnings outlook on Tuesday, citing continued weakness in its private brands business.
ConAgra, which makes Hunt's ketchup, Chef Boyardee pastas and other products, said it now expects adjusted earnings of $2.22 to $2.25 a share for fiscal year 2014, which ends in May. Earnings for the third and fourth quarters are projected to be 60 cents and 65 cents a share, respectively, missing Wall Street expectations.
The company's previous outlook called for full-year adjusted earnings of $2.34 to $2.38 a share.
Omaha, Neb.-based ConAgra also anticipates a steeper decline in volumes at its consumer foods segment. Volumes are expected to fall 3% to 4% in the second half of fiscal 2014, compared to prior guidance for a 1% to 2% drop.
Shares slumped 5.9% to $29.21 in late morning trading.
CEO Gary Rodkin stressed that ConAgra remains confident in its strategy to lift its private brands unit, which makes products for retailers with in-house brands. The business was acquired through ConAgra's $4.95 billion purchase of Ralcorp Holdings early last year.
"It is taking longer than expected to stabilize the performance of the private brands segment, which has been below plan because of pricing, sales force coverage, and customer service issues largely resulting from restructuring actions taken before we bought that business last year," Rodkin explained.
The Ralcorp acquisition will have a less-than-expected positive impact on earnings this year, ConAgra noted. The company sees a contribution of 20 cents a share to 2014 earnings, while ConAgra originally expected a 25-cent boost.
Additionally, ConAgra said the formation of flour company Ardent Mills, a joint venture with Cargill and CHS (CHSCP), is set to be completed in the second quarter. The transaction was expected to close in the first quarter but has run into delays related to the regulatory review process.
ConAgra initially planned for a dilution of three cents a share from Ardent Mills, but the food maker said its estimate no longer applies.