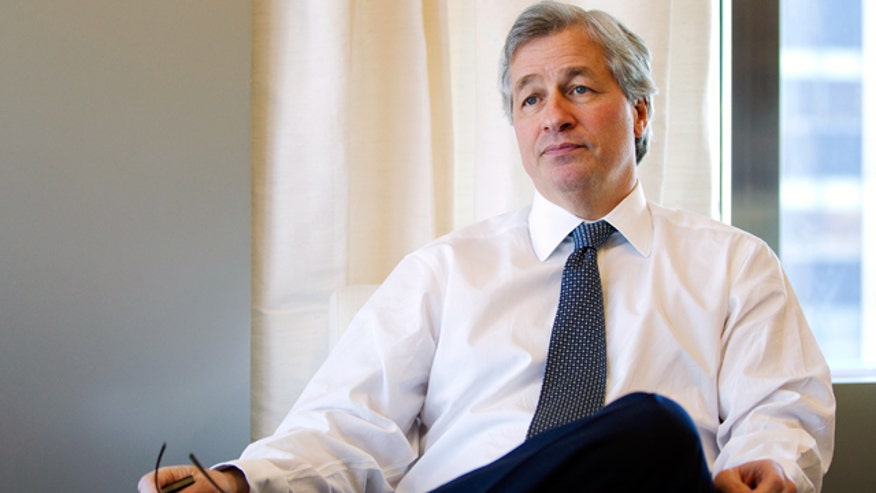 JPMorgan Chase CEO Jamie Dimon is set to spend a lot of time in Washington next month. The influential House Financial Services Committee is demanding the famously testy chief executive answer questions on the bank's massive trading loss at another round of hearings, FOX Business has learned.
Although the official date of the House hearing hasn't been set, people with direct knowledge of the matter say Dimon is preparing to testify before the committee on or about June 20.
Dimon's House testimony comes on top of a previously announced date to testify before the Senate banking committee on June 7. Sources tell FOX Business the firm is attempting to move that to later in the month, however.
A JPMorgan (JPM) spokesman declined to comment and a spokeswoman for the House Financial Services Committee could not be reached for comment.
Earlier in the month, JPMorgan announced that a hedging strategy carried out by the bank's Chief Investment Office in London had gone wrong, and cost the firm at least $2 billion. The hedging strategy was conducted in part by a London trader named Bruno Iksil, known on Wall Street as the "London Whale" for the size of his trading positions while he and a team of traders managed the bank's $350 billion internal portfolio.
Dimon has since gone public with the loss, calling it a poorly-executed and "flawed" strategy. Since then, the head of investment office, Ina Drew, has left the firm. As of today, Iksil remains at JPMorgan as executives conduct a sweeping investigation of the blunder that has attracted law enforcement scrutiny on top of Congressional interest.
The loss has major political ramifications because Dimon, a long-time Democrat, has been openly critical of the party's signature piece of post-financial crisis legislation: the Dodd-Frank financial reform law.
Lobbyists for JPMorgan have, until recently, been scouring Washington in an attempt to water down legislation, which was signed into law by President Barack Obama in 2010. Some parts of the bill, like the so-called Volcker Rule, haven't been completely implemented yet.
The Volcker Rule (named after former Fed chairman and White House economic adviser Paul Volcker) is designed to prevent federally-insured "Too Big To Fail" banks like JPMorgan from engaging in risky trading strategies. Critics like Dimon have said the rule would also prevent them from ordinary market-making activities to service clients.
Ironically, the London Whale loss wouldn't have been prevented by the Volcker rule because it occurred while JPMorgan was hedging a position on the bank's balance sheet, not on a trading desk in its securities operations.
That said, the hearings by the Democratic-controlled Senate, and the Republican-led House, will likely serve as a political tool for both sides with Dimon sitting uncomfortably in the middle.
Republicans have been critical of the law, often parroting some of Dimon's own critiques that many of the regulations are costly and preventing banks from lending to small businesses. Republican lawmakers may try and use Dimon's own words to show that Dodd-Frank didn't and wouldn't have prevented the London Whale fiasco in the first place.
Democrats will attempt to use Dimon's testimony to show the need for the strictest interpretation of the new banking laws, including the Volcker rule.
People at JPMorgan, meanwhile, are worried that their famously hot-tempered CEO, known for speaking his mind in public, may need to tone down his remarks. Already, bank officials are scrambling to move the June 7 Senate hearings closer to the proposed House date of around June 20, arguing to committee staffers that Dimon will have more information from the internal investigation to share with members at the later date.
Charles Gasparino joined FOX Business Network (FBN) in February 2010 as Senior Correspondent.