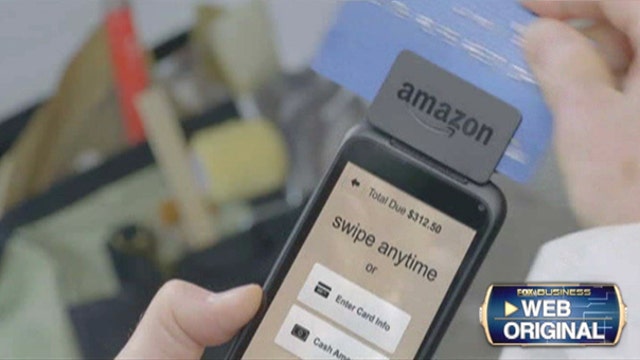 With earnings report cards winding down, tech heavyweights kicked rivalry up a notch – this is your tech rewind of the week.
In its latest brick-and-mortar play, Amazon (NASDAQ:AMZN) introduced Local Register – a credit card reader and mobile app. An ad for Local Register shows customers making purchases on Main Street, as Amazon aims to compete with Square and PayPal for small business dollars. The reader is priced at $10, and Amazon says it will charge 2.5% per swipe. However, customers who sign up before Oct. 31, 2014, will only pay a 1.75%  swipe fee until the new year.
The e-commerce giant also blocked pre-orders of upcoming Disney (NYSE:DIS) titles this week, due to a reported tiff with the media giant over DVD and BluRay pricing. According to reports, Amazon has been involved in similar tit-for-tat spats – such as an on-going dispute with Hachette Book Group over e-book pricing.
On Tuesday, "Candy Crush" parent company King Digital (NYSE:KING) reported sour second-quarter earnings, which caused shares to tank in extended trade. King stock continued to slip in midday trade on Friday.
Meanwhile, Pandora (NYSE:P) shares perked up midweek after a "buy" rating from analysts at Stifel Nicolaus. Shares were still modestly up on Friday. Also this week, tech startup Vadio announced a $2 million funding round and a new partnership with Vevo. The Portland, Ore.-based company wants to mix the old-school MTV music-video experience in with today's streaming platforms, like Pandora, Spotify and iHeartRadio.
It's THE news the tech world is waiting on, now, sources tell FOX Business Network's Jo Ling Kent that Chinese e-commerce site Alibaba is eyeing a Sept. 16 IPO on the New York Stock Exchange. The company reportedly plans to kick off the investor roadshow the first week of September, with visits to New York, Boston, Los Angeles and San Francisco on the docket. Earlier this week, Alibaba overhauled its pact with payment affiliate Alipay's parent company, in addition to selling to them its small business loan division.
It's a virtual world, and we're all living in it. Soon patients can have their doctors make diagnoses via Skype. Telemedicine is poised to take off, big, as prices on the technology drop, and more Americans and their doctors sign on.
Continue Reading Below
Advertisement