Stocks that moved substantially or traded heavily Friday on the New York Stock Exchange and the Nasdaq Stock Market: NYSE Big Lots Inc., down 85 cents to $46.35 Shares of the discount retailer...
United Therapeutics shares soared 28.5 percent on Friday after the company won a court ruling in a patent dispute that blocks Novartis AG from selling a generic version of its best-selling...
Is it time to cash out of stocks? The market has nearly tripled in a little over five years, and with each record close, the temptation grows to take your winnings and flee.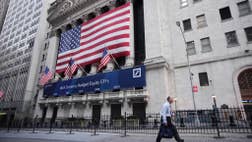 Tokyo stocks led declines in most Asian markets on Friday after Japanese economic data showed that the region's second biggest economy is struggling to recover from a sales tax hike.
Australia's second largest airline, Virgin Australia Holdings Ltd., says it lost 356 million Australian dollars ($333 million) in its last fiscal year, a three-fold increase over the previous year.
Splunk Inc. on Thursday reported a loss of $60.8 million in its fiscal second quarter, but the data management software developer raised its estimates for the year, sending its stock up in late...
Pacific Sunwear on Thursday reported fiscal second-quarter earnings of $7.5 million.
Pall Corp. (PLL) on Thursday reported fiscal fourth-quarter net income of $120.1 million.
Genesco Inc. (GCO) on Thursday reported fiscal second-quarter earnings of $4.7 million.