Family Dollar Stores Inc. on Wednesday reported fiscal third-quarter profit of $79.9 million.
General Mills Inc. (GIS) on Wednesday reported fiscal fourth-quarter earnings of $186.8 million.
ConAgra Foods Inc. (CAG) on Tuesday reported fiscal fourth-quarter net income of $209.2 million, after reporting a loss in the same period a year earlier.
Stocks that moved substantially or traded heavily Friday on the New York Stock Exchange and the Nasdaq Stock Market: NYSE Nike Inc., up $4.49 to $109.71 The maker of sneakers and athletic apparel...
The Finish Line Inc. (FINL) on Friday reported fiscal first-quarter profit of $13.8 million.
All times are Eastern WEDNESDAY, July 1 WASHINGTON — Institute for Supply Management releases its manufacturing index for June, 10 a.m.; Commerce Department releases construction spending...
Shares of Micron Technology slumped in aftermarket trading Thursday after the chipmaker said the weak PC market hurt its business in its fiscal third quarter.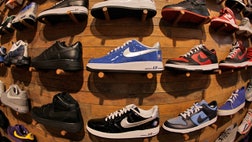 Nike, the world's largest footwear maker, reported a better-than-expected profit for the eighth quarter in a row as it sold more high margin basketball shoes and apparel at higher prices.
Sales of Barnes & Noble's Nook devices and e-books plummeted during its most recent quarter, as did sales at its bookstores.