Tax preparer H&R Block Inc. said Wednesday that the earlier opening of the IRS' e-filing system helped its results in the fiscal third quarter even as it processed fewer tax returns than it...
Stocks that moved substantially or traded heavily Wednesday on the New York Stock Exchange and the Nasdaq Stock Market: NYSE Abercrombie & Fitch Co., down $3.72 to $20.27 The teen clothing...
The stock market sank early Wednesday, drifting further from record highs.
Shares of Career Education Corp. surged in after-market trading Tuesday after the for-profit education company posted a smaller quarterly loss than Wall Street expected.
TORONTO (AP) — The Bank of Nova Scotia (T.BNS) on Tuesday reported fiscal first-quarter net income of $1.3 billion (1.65 billion CAD).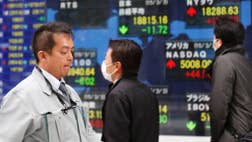 U.S. stock indexes edged lower in early trading Tuesday as investors await earnings from the few companies yet to announce results and a jobs report later this week.
Insys Therapeutics Inc. (INSY) on Tuesday reported fourth-quarter net income of $9.3 million.
Navistar International Corp. (NAV) on Tuesday reported a loss of $42 million in its fiscal first quarter.
AutoZone Inc. (AZO) on Tuesday reported fiscal second-quarter profit of $211.7 million.
Primoris Services Corp. (PRIM) on Tuesday reported fourth-quarter net income of $8.9 million.