The on-demand ride-sharing app Lyft says it is starting limited service in New York City after reaching agreement with state and city officials to resolve regulatory issues.
Russia has announced a ban on all dairy imports from Ukraine starting next week, a move Kiev has dismissed as politically motivated.
A government newspaper says Chinese regulators have concluded Qualcomm Inc., one of the biggest makers of chips used in mobile devices, has a monopoly.
A state district judge struck down Longmont's voter-approved ban on hydraulic fracturing Thursday but stayed her decision while the city considers an appeal.
Federal officials have capped the amount of money scofflaws will be forced to pay if they don't buy insurance this year under the new health care law.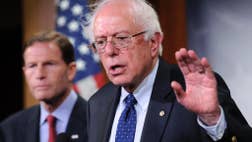 With Congress scheduled to recess in a week, the chairmen of the House and Senate Veterans Affairs committees offered competing proposals Thursday to fix a veterans' health care program...
Sen. Ted Cruz vowed Thursday to continue blocking confirmation of a series of ambassadorial and other diplomatic nominees despite the Federal Aviation Administration lifting a ban on U.S. airline...
Linda Close was grateful to learn she qualified for a sizable subsidy to help pay for her health insurance under the new federal law.
United Airlines will be the first U.S. carrier to resume flights to Israel after a two-day hiatus caused by combat in the Gaza Strip.
A new study estimates that more than 10 million adults gained health insurance by midyear as the coverage expansion under President Barack Obama's law took hold in much of the country.