Puerto Rico's governor has called a special legislative session to debate a measure that would boost an oil tax by 68 percent.
New Jersey energy regulators on Friday rejected for the third time a proposed windmill power project off the coast of Atlantic City.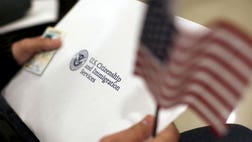 An estimated 5.2 million unauthorized immigrants could be affected by President Obama's immigration plan, but the economic impact is less certain.
The head of the New York Federal Reserve was put on the defensive by Senate Democrats, who accused the Fed of being too close to the big banks it is charged with regulating.
The Obama administration is delaying a decision on whether to reduce the amount of ethanol in the nation's fuel supply.
House Republicans have sued the Obama administration over steps President Barack Obama took to put his health law into place.
A government study with significant implications for the U.S. energy industry says the breeding grounds of a struggling bird species need a 3-mile or larger buffer from oil and gas drilling, wind...
Solar energy advocates urged North Carolina legislators on Thursday to resist pressure from big energy interests and leave in place incentives that have sprouted an industry that employs 3,000...
Responding to criticism leveled at him last week, Gov. Jay Inslee on Thursday challenged two Republican senators to "do more than just criticize and mischaracterize" actions being considered to...
Some low-cost generic drugs that have helped restrain health care costs for decades are seeing unexpected price spikes of up to 8,000 percent, prompting a backlash from patients, pharmacists and...