The Federal Reserve is pushing the biggest U.S. banks to shrink so that they're less of a risk to the financial system.
Mississippi regulators have approved a plan to let victims of domestic violence delay paying utility deposits for 60 days as a way to help victims move away from abusers even if they don't have...
Gov. Pat McCrory wouldn't say Tuesday how he plans to respond to a proposed new law regulating Duke Energy's toxic coal ash pits, a measure he has suggested includes an unconstitutional provision.
Mining industry groups say a ban on the filing of new hard rock mining claims near the Grand Canyon is irresponsible public policy, but the federal government and conservationists say it will...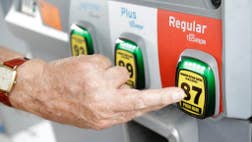 Exporting more U.S. oil around the world would lower the price of gasoline for U.S. drivers and benefit the nation's economy, according to a new study.
North Carolina's Supreme Court on Monday took a new look at whether state regulators are doing enough to balance consumer protection against the pursuit of higher rates by the country's largest...
Speaker John Boehner says the House will extend the authority of the Export-Import Bank this month and it may be done as part of a government-wide funding bill that's needed to prevent a shutdown...
The European Union's antitrust body is again rejecting Google's offer to settle a case claiming it abuses its dominant position in Internet searches.
In July, two scary notices arrived in Amaris McGee's mailbox.
The Indiana Court of Appeals ruled Monday that state utility regulators wrongly approved $61 million in ratepayer fees for the Edwardsport coal gasification plant.