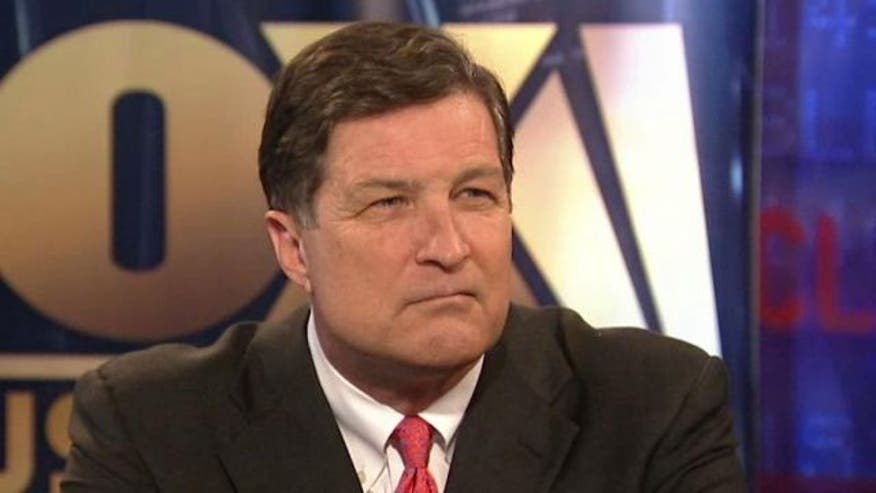 A top Federal Reserve official said Monday he opposes more stimulus by the central bank because it will do little to boost economic growth and will likely sow the seeds of higher inflation in the future.
"Monetary policy doesn't have a lot of capability right now to really enhancing the growth we are seeing in the economy," said Jeffrey Lacker, the president of the Federal Reserve Bank of Richmond.
"I think the impediments of growth are things that monetary policy is really not that capable of offsetting," such as the so-called "fiscal cliff" Washington faces with the expiration of the Bush tax cuts at the end of this year combined with deep new spending cuts scheduled to kick in at the same time, he said.
"We've got a significant fiscal adjustment ahead of us, and that's having a demonstrable effect on growth," Lacker said "We hear from contacts around our district that they just -- they look ahead; they think about the new projects. They've got ideas for new factories to build. But they just can't do the math. They don't know what their health care costs are going to be. They don't know what marginal tax rates are going to be until Congress figures out how we're going to get on a sustainable fiscal path. There's going to be this uncertainty that's going to impede growth for some time, anyway."
Lacker is currently a voting member of the Fed's policy setting body, the Federal Open Market Committee. He is one of the Fed's inflation "hawks." He has dissented this year on every FOMC decision to help stimulate the economy.
At the latest FOMC meeting last week, he voted against extending the Fed's latest stimulus program known as "Operation Twist," in which the Fed sells shorter-duration government securities to purchase longer-maturity ones to try to push down interest rates on mortgages and other longer-term loans.
"I think that further stimulus at this point would most likely just raise inflation," Lacker said in an interview with FOX Business. "Whether it affects growth or not depends on the circumstances, depends on the situation. I don't think we're in a situation where it would have a meaningful effect on stimulating growth for beyond a transitory period."
But he would not rule out additional monetary easing from the Fed and said he would personally support it if inflation falls substantially below the Fed's official target of 2%. As was experienced during the Great Depression, periods of falling prices can seriously destabilize an economy.
"Nothing's ever a foregone conclusion. We take everything a meeting at a time, and it's going to depend on how the data comes out. Growth is clearly weakened in the last couple of months," he said. "If inflation fell in a sustained way and we needed to boost inflation to get it back close to our target, I would favor monetary stimulus. No question about it."
At its meeting last week, FOMC members cut their growth forecast for the economy and raised their unemployment projection in light of recent weaker economic indicators. Many analysts said the downgrade makes another round of "quantitative easing" (QE) more likely.
In QE, the Fed in essence "prints" money by buying government bonds without any offsetting sales of securities in its $2.9 trillion balance sheet; the purchases pump new cash into the economy and, supporters argue, also help lower interest rates. The Fed has launched two rounds of QE since the financial crisis began in 2008.
While Lacker does not favor additional stimulus right now, he supports other Fed measures such as continuing to keep short-term interest rates at near zero.
"I'm comfortable with a broad amount of monetary stimulus out there in terms of our stance. I think we're OK now," he said. "I don't think we have to withdraw monetary stimulus right now. I don't think we have to begin exiting right now."
But he added he feels the central bank likely will have to begin raising interest rates next year to prevent too much inflation.
"We were likely to need to raise rates sometime in the 2013 time horizon--maybe late 2013 is a little more appropriate now with the growth outlook weakening, but I think we're probably going to have to raise rates next year…but it is going to depend on the data. That's not a promise."
On other issues, Lacker said:
--he expects the economy to grow at 2%-3% for the next two years, an "unsatisfactory" rate. He expects the unemployment rate to drop to "just under 8%" by the end of 2012 "and I think it would be close to 7.5% next year if we keep going the way we're going."
--he does not believe lower mortgage rates will help the housing market. "They're awfully low where they are right now, under 4%, well under 4%," he said. "They're not going to get much lower." He said …I think it's just going to take time…We've built more houses and we have more houses on hand than we want at current prices and current income and the current configuration of credit availability. And until we grow our way into those houses, there's going to be an overhang of vacant homes that has a depressing effect on prices."
--European officials have "got a lot more work to do" to clean up and contain their debt crisis. But that the "flight to quality" in U.S. Treasury securities, which has helped keep interest rates low, "is providing stimulus for us. It's doing some easing for us…That, in my mind, makes it even more questionable why we need further reductions and long-term yields."
Peter Barnes joined FOX Business Network (FBN) in September 2007. He serves as FBN's senior Washington correspondent.