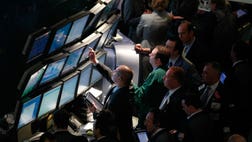 Markets
A high-tech Wall Street will need to work with a high-tech SEC if it wishes to police a high-tech HFT world.
Industries
Chicken coop lighting plays a big role in farmers' bottom lines, and its lead two big producers to advocate a switch from incandescent bulbs to LEDs.
Economy & Policy
Here's a Wall Street fact: There's not one single economic report more influential on the markets, business sentiment, and the American psyche than the monthly jobs number.