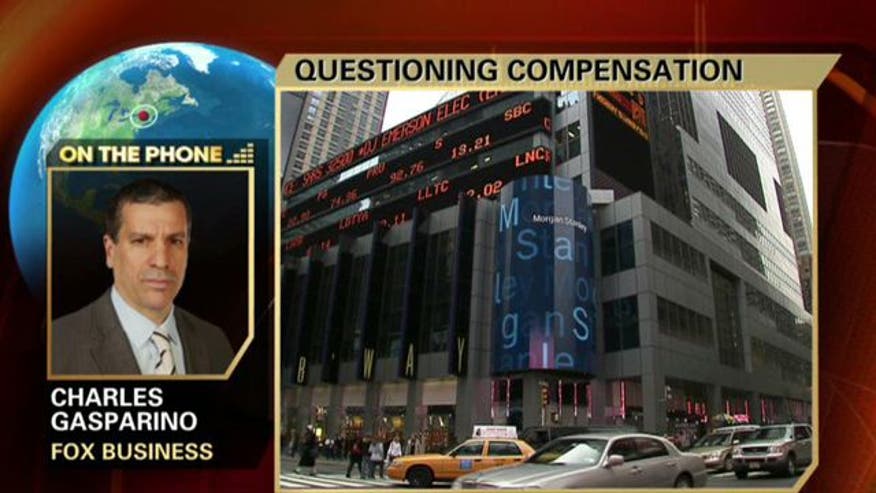 Morgan Stanley's announcement last week that it will reduce 2011 bonuses to its executives and place a "cap" on the cash portion of the annual payouts came after protracted discussions with securities regulators who expressed concerns over the high amount of the firm's revenue that is dedicated to compensation, the FOX Business Network has learned.
Morgan Stanley (MS) dedicates 52% of its revenue to pay for compensation of its employees -- more than any other major Wall Street firm. Goldman Sachs (GS) comes closest with 42%, with Citigroup (C) at 39%, Bank of America (BAC) at 33% and JPMorgan (JPM) at 30%.
While Morgan Stanley officials cited the existence of its large brokerage sales force for skewing the numbers (brokers retain a large percentage of the revenue they produce as compensation) regulatory officials remained concerned about the firm's compensation costs since Bank of America, which controls the Merrill Lynch brokerage sales force, has a far lower compensation ratio. Morgan chief executive James Gorman had to "baby walk" regulators through the compensation process, and point out that in addition to brokers, Bank of America also employs low-wage tellers and other staff in their branch offices, which depresses its overall ratio, a senior executive inside Morgan Stanley told FOX Business.
Under the Dodd Frank financial reform law passed in 2010, Wall Street compensation has become a key issue among securities regulators who believed large compensation packages led to the excessive risk taking that caused the 2008 financial collapse. One key regulator, the Securities and Exchange Commission, now requires firms to maintain compensation procedures that prevent "inappropriate risk-taking."
It's unclear how well Gorman made his case that Morgan compensation ratios weren't excessive, but people inside Morgan Stanley said the regulatory pressure was responsible for last week's announcement that the firm would slash bonuses as well as cap cash bonuses at $125,000, pay a greater percentage of bonuses in stock and stock equivalents and reduce some bonuses of executives to zero.
A Morgan Stanley spokeswoman would only say that discussions with regulators were not responsible for the $125,000 cash-bonus cap. She declined further comment. The Securities and Exchange Commission did not comment on the matter.
The FOX Business Network reported in October that the firm was preparing for a massive cut in its bonuses to executives; traditionally Wall Street traders and bankers receive the vast amount of their compensation in the form of year-end bonus, and a small annual salary, though salaries have been rising in recent years to make up for firms responding to regulatory pressure by cutting their bonus pools.
Since he took over as CEO in 2010, Gorman has ratcheted down the amount of firm revenue going toward bonuses from around 60% to its current level of 52%. Still, last week's numbers hit Morgan executives hard. "There was a lot of crying in the bathrooms at Morgan after the bonus announcements" said one Wall Street executive with direct knowledge of the matter.
A Morgan Stanley executive told FOX Business that the financial upside for bankers and traders to remain at big firms like Morgan Stanley as opposed to hedge funds and private equity outfits is shrinking.
"Look at it this way," this executive said. "The regulators are forcing the firms to pay more compensation in equity. That would be OK back in 2006 when our stock was marching higher, but with so many controls on how we're making money, how is our stock going to get a decent bounce?"
This executive said Wall Street CEOs will likely use bonus reductions to slash their workforce without widespread layoffs. People inside Morgan Stanley say the firm might pare another 3,400 employees this year on top of the 1,600 already cut.
"Gorman is probably hoping a couple thousand people just leave so he doesn't have to pay unemployment insurance -- and they might," this executive added.
Charles Gasparino joined FOX Business Network (FBN) in February 2010 as Senior Correspondent.